Dr. Cesar Amescua
Pain Management Specialist
Speciality: Anesthesiology, General Surgery
Languages: English, Spanish
Dr. Amescua earned his medical degree in Mexico City at the Universidad Nacional Autonoma de Mexico. Following graduation, he completed a two-year internship, then specialized in Anesthesia at the Hospital General de Mexico.
Ongoing education includes two years of study on Pain Management at the Pain Clinic of the Instituto Nacional de Cancerologia in Mexico City, where he later spent three additional years as Coordinator of the Pain Clinic.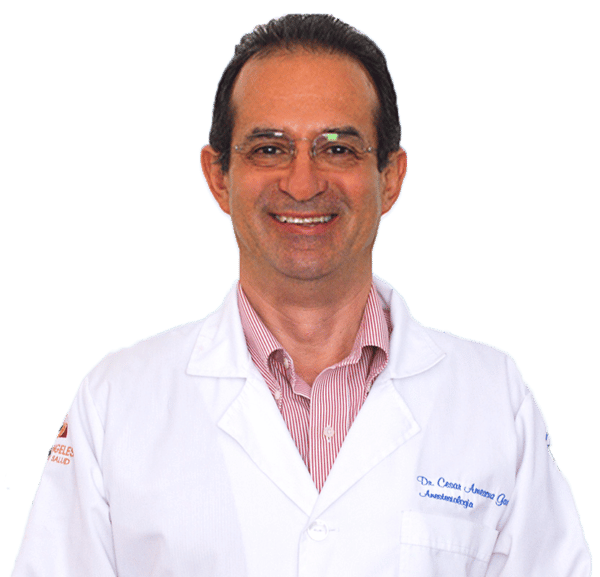 Degrees & Professional Affiliations
Dr. Amescua is a Professor of Pain Management at the the Universidad Autonoma de Baja California school of Medicine.
He has worked with cancer and neuropathic pain patients for 20 years and has participated in more than 100 medical meetings as an invited professor.
Dr . Amescua has published multiple articles in various medical journals and contributed several chapters to books on pain management.
Dr. Amescua organized the Neuropathic Pain Satellite Meeting on behalf of the World Congress on Pain in San Diego, CA in 2002.
He is currently the Medical Director at Hospital Angeles, Tijuana.
Graduate of the Universidad Nacional Autonoma de Mexico.
Past President of the Asociacion Mexicana para el Estudio y Tratamiento del Dolor, A.C.(AMETD).
Member of The International Association for the Study of Pain (IASP).
Member of the International Coalition of Neurophatic Pain.
Member of the World Institute of Pain.
Best Hospital Facilities at Tijuana, Mexico
The Safe, Affordable and Personalized Experience
US and Mexico Board Certified Surgeons
Personalized Experience, unlike everywhere else, we only accept one  Surgery per day to ensure the highest level of personalized care from our entire team caring for your wellbeing and satisfaction
Full-scale certified hospitals and clinics with International Accreditation's
Best technologically advanced medical facilities in Tijuana
Personal Transportation Services
Concierge Services for Any Type of Additional Needs
Comfortable rooms with space available for companion upon request
Request Booking Contact Today!