FUE Beard Transplant (Facial Hair) in Tijuana, Mexico
Our Price Starts at $4,700 USD
Our medical team uses the FUE transplant technique because of it's minimally invasive nature. Our procedure does not leave scars or marks* in your body since it's not a surgery and staples or sutures* are not needed. In addition, it's a low risk* procedure giving our patients a faster recovery period.
After their FUE transplant is finished, patients can start to see the progress immediately. Among the different benefits our patients can enjoy, are:
Good success rates*
Improved self-esteem
100% natural look *
Younger appearance
Better technique than FUT*
* US National Library of Medicine National Institutes of Health.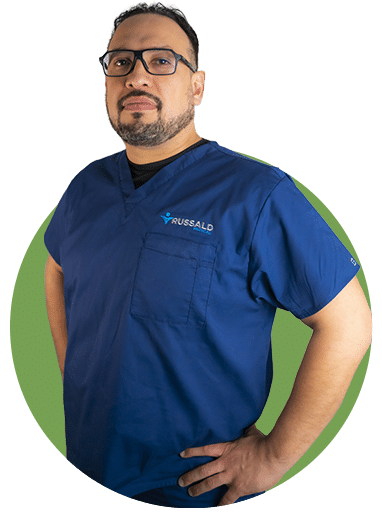 Certified Hair Transplant Specialist
FUE Beard Transplant (Facial Hair) Procedure
BBB Certified Hair Clinic in Tijuana, Mexico
For our FUE Beard Transplant, our medical team follows the same procedure as a normal hair transplant:
The donor area is decided (commonly the back of head).
Local anesthesia is applied.
A minimal scoring punch device (0.8 or 1.0 mm) loosens the follicle from the tissue.
The hair follicles units are removed directly from the donor area which can be from the back of the head above the neck or the surroundings areas.
The follicles are manually placed into the slits in the beard area.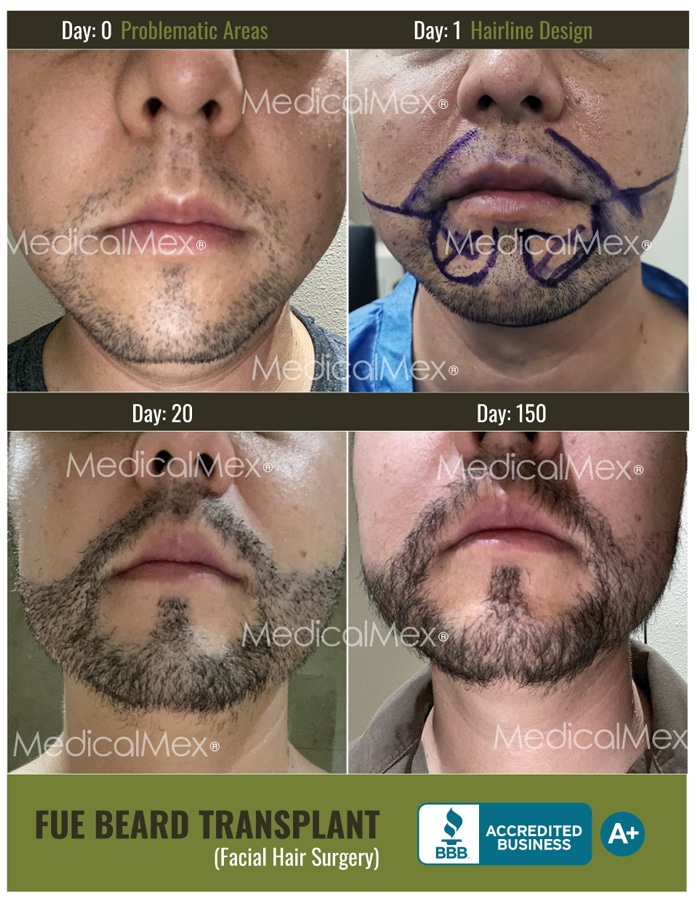 BBB Certified Hair Transplant in Tijuana, Mexico
The Safe, Affordable and Personalized Experience
Home of  Best Board Certified Surgeons in Mexico
Personalized attention with US based case managers
Peace of mind from getting treated with the most prestigious hospital name in Mexico
Full-scale certified hospital with International Accreditation's (Not a Clinic like most)
Best technologically advanced medical facilities in Tijuana
Shuttle Service
In-house Pharmacy and Chapel
Best amenities
Comfortable rooms with companion accommodations
Candidates for FUE Beard Transplant
BBB Certified Hair Clinic in Tijuana, Mexico
For a Beard Transplant, our team needs to evaluate your case. We will ask you to send pictures to perform a proper evaluation and in addition, to have a stable supply of donor hair which is suitable to cover the beard area.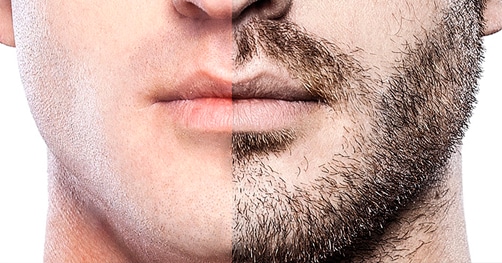 FUE Beard Transplant FAQ´s
Frequently-Asked-Question about the FUE Beard Transplant
A Hair Transplant is life changing decision which creates a lot of questions in our patients. We encourage them to resolve all their doubts before deciding on their hair loss procedure. To help them make the best decision, we share the most common questions made at our consults.
Request Booking Contact Today!