Gastric Band Surgery in Tijuana, Mexico (Lap-Band)
The affordable and safe option for lap-band surgery in Mexico
Bariatric Chief Surgeon World-Renowned
Over 30 Years of Experience, more than 10,000 laparoscopic surgeries, and more 6,000 bariatric surgery.
The Gastric Band Surgery or Lap-Band Surgery is performed by Dr. Juan Lopez Corvala, the most trusted and experienced bariatric (weight-loss) surgeon in Mexico with over 5,000 successful surgeries and he is considered the standard for excellence in lap-band surgery, his a regular speaker in the industry's premier events around the world and mentor to many surgeon from both United States and Mexico. Don't risk it, go with the a safe option for your gastric lap-band surgery in Mexico, go with the experience and recognition of Dr. Lopez Corvala, a certified metabolic & bariatric surgeon of excellence who still performs all of his own procedures, and unlike most other surgeons he only performs a 2-3 per day to guarantee quality over quantity.
The 5 requirements for having Gastric Band (Lap-Band) Surgery:
The patient should be 18 years or older.
Have a BMI of 30 or more.
Or be considered obese and suffer from one or more conditions related to obesity such as: Diabetes, Hypertension, Sleep Apnea, among others.
Be more than 100 lbs. over the estimated optimal weight for five years or more
Have several failed attempts to lose weight through diets or exercise.
Bariatric Chief Surgeon World-Renowned
Over 30 Years of Experience, more than 10,000 laparoscopic surgeries, and more 6,000 bariatric surgery.

Gastric Band Patients Testimonials
Lap-Band Patient Reviews for Dr. Lopez Corvala
Listen to real Gastric Band (Lap-Band) patient testimonials from Dr. Lopez Corvala and find out why he is considered the best bariatric weight-loss surgeon in Mexico and among the most recognized around the world. Over 5,000 weight-loss bariatric surgeries with no major complications and no bad reviews or negative comments, something unheard off in this field.
Weight loss results can vary depending on the individual. There is no guarantee of specific weight loss results.
Best Gastric Lap-Band Surgery in Tijuana, Mexico

The Safe, Affordable and Only Certified Medical Facilities for +10 years
Personalized attention with US based case managers
Home to Dr. Lopez Corvala the most recognized and trusted name in Weight-loss Surgery
Peace of mind from getting treated with the most prestigious hospitals in Mexico
Full-scale certified hospitals and clinics with International Accreditation
Best technologically advanced medical facilities in Tijuana
Shuttle Service
In-house Pharmacy and Chapel
Comfortable rooms with companion accommodations

Gastric Band Surgery FAQ´s
Frequently-Asked-Questions about Lap-Band Surgery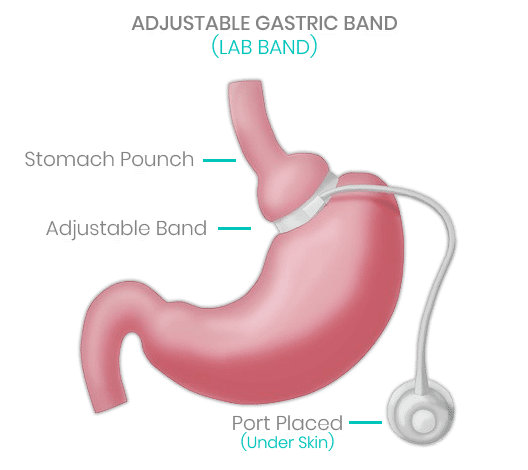 We encourage all patients to do their research and ask all their questions to ensure their ready and have all the information needed to make an informative decision. To get started, here are a few of the most common questions regarding our Lap-Band surgery in Mexico. For further assistance regarding prices, evaluations, medical questions or any other concern, please reach out through our Free Consultation form so that our case managers can get in contact and answer all your questions.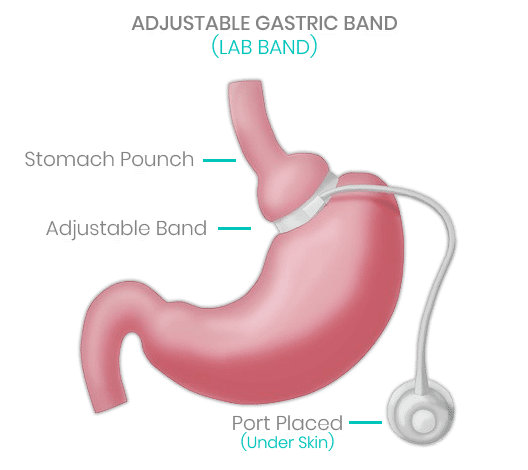 What's the price of a Gastric Band Surgery?
The average price for our Gastric Band (Lap-Band) surgery medical travel package is $5,600 USD
Please beware. The average price for lap-band surgery in Mexico ranges from $5,000 USD to $9,000 USD, beware of places charging less than this, remember if it's too good to be true, chances are there might be negative risk associated with this. Always be sure to ask for their credentials and doctor qualifications before risking your health for a few dollar savings. Be sure to go with the best and safest option in Mexico.
What's included in the Gastric Band Surgery medical travel package?
All pre-op & post-op testing
All surgeon & anesthesiologist fees
Dedicated US based case management before, during and after your trip
Hospital stay of 2 nights
All nursing & hospital fees
Post-surgical support and follow up
Door-to-door ground transportation from San Diego Airport to the Hospital and vice-versa.
How is the Gastric Lap-Band surgery done?
This surgery is performed under general anesthesia, where three to five incisions of one-half to two inches are made in the upper abdomen, allowing our doctor to use specialized tools to place a gastric band which contains a small balloon around the top portion of the stomach, forming a smaller gastric pouch.
Once the lap-band is in place, the pouch is filled with a saline solution through an injection port, which is attached to the abdominal wall under the skin. The saline expands the band and places pressure around the outside of the stomach, this decreases the size of the passage between the pouch and the lower stomach, restricting the movement of food. Using the injection port, the amount of saline in the band can be easily adjusted to create the passage optimal for maintaining consistent weight-loss.
Why choose MedicalMex for a Lap-Band Surgery?
Best deal, our LAP-BAND (gastric band) patients who choose us for their surgery will have access our premier partnership deal which guarantees the best rates and services through our network of hospitals and doctors in Mexico. Our Lap-band surgery patients will be cared for by the best weight-loss surgeon in Mexico, Dr. Juan Lopez Corvala a worldwide pioneer in weight-loss procedures and the most trusted name in Mexico.
Huge savings, in the US a LAP-BAND® surgery can cost from $10,000 up to $25,000. Most insurance companies classify weight loss surgery as an elective procedure, despite the clear health risks of obesity. LAP-BAND® surgery is therefore included in very few health insurance policies, making the procedure unavailable to the people who need it most. Patients who choose MedicalMex will find modern and technologically advanced facilities that are equal to or even better equipped than some U.S. hospitals. We place great importance on patient-centric care and have long-term experience with the specific needs of medical travel patients.
Peace of mind, LAP-BAND surgery patients can feel safe knowing that their getting treated in hospitals with specialty and emergency services on hand including cardiac anesthesiologists, internists, and emergency/critical care services for any potential risk. Although, the LAP-BAND or Gastric Band Surgery is a simple procedure with a less than 1% complication rate, it still has the same risks of any surgical procedure and at MedicalMex partnership hospitals, patients can feel safe that their in the best hands and most recognized names that can mitigate any potential risk.
How safe is MedicalMex for Gastric Band (Lap-Band) surgery?
MedicalMex partnership's hospitals are the only internationally recognized certified hospitals in Tijuana, Mexico, they are full-scale hospitals with the best technology and the most experienced and recognized name doctors and surgeons in Mexico. We are not a clinic like all other weight-loss surgery providers, they are full-scale hospitals that can compare to the best hospital facilities in US or Mexico.
Our Lap-band surgeons and medical staff is lead by Dr. Lopez Corvala the most highly rewarded weight-loss surgeon in Mexico who has extensive academic and practicing experience of over 30 years which expands from surgeon teacher at Yale University in United States to member of the most prestigious medical associations in Latin America. The safest and most experienced option for lap-band surgery in Mexico.